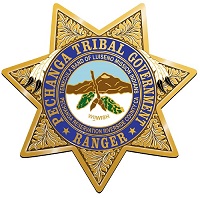 The Pechanga Tribal Ranger Department was established in 1996 to assist the Band in exercising its tribal sovereignty by providing law enforcement services as first responders, enforcing tribal ordinances, protecting the people that reside on the reservation, as well as protecting tribal assets and establishing and maintaining a strong positive relationship with outside law enforcement. The mission of the Department of Public Safety, Tribal Ranger Department is to protect, preserve, respect and serve the Pechanga Band.
Administration Department
The Administrative Department consists of the Director of Public Safety, one Lieutenant, two Sergeants, three Corporals and an Administrative Assistant. Policies and programs are developed by the Director and Lieutenant in response to directives issued by Tribal Council, balanced with cultural expectations and in conjunction with current state and federal laws. The Sergeants and Corporals ensure all Ranger staff carry out the policies, directives and programs set forth by Ranger Administrators in a consistent and professional manner. Normal administrative business hours are Monday through Friday 7:00 a.m. to 4:00 p.m.
Communications Department
The Pechanga Tribal Dispatch Department is staffed by two Dispatch Corporals who supervise a staff of highly trained Dispatchers. The Dispatch Center is a twenty four seven operation, seven days a week, all year long. Our Communications Center is a fully functional modern facility, equipped with the latest in communications and surveillance technology. All Ranger Dispatch staff members go through the same training and certification processes that are required of dispatchers in any large to medium sized main stream law enforcement agency. The Dispatch Center supports Patrol Rangers and the Pechanga Fire Department. The Ranger Dispatch Center is also the designated "Communications Network Center" in the event of a natural disaster or major event.
Internal Investigations
Due to the size and scope of Tribal Government there arises situations requiring an internal investigation be conducted to ensure its managers, supervisors, and employees are complying with the law as well as adhering to internal policies and accepted guidelines. Internal investigations are categorized as highly confidential and the situation being investigated poses a potential risk to the business interests of the Band. The Department has developed a team of investigators to conduct these types of investigations. The team can consist of two up to four members, depending on the magnitude and complexity of the case to be investigated.
Patrol Division
As first responders Tribal Rangers are armed while carrying out their duties. Rangers respond to any calls for service or on site observation requiring law enforcement intervention to keep the peace or prevent criminal activity from occurring. Rangers are involved in various types of investigations on a daily basis. The nature of these investigations is to evaluate the facts and circumstances that are present and determine if criminal activity/violations have occurred, if the incident is a civil matter, or is there a need for other types of assistance. The circumstances of the contact coupled with the investigation conducted by the Ranger determine the level of response and how a case is resolved. Rangers write reports of alleged misconduct, criminal activity, traffic accidents, etc. Rangers enforce Tribal ordinances for traffic, ORV (Off Road Vehicle), fire ordinances, animal control ordinances, etc. Rangers conduct enforcement stops and issue citations to persons who are found to be in violation of traffic and/or fire ordinances. Rangers staff various stationary posts, provide traffic/crowd control, conduct foot patrols of Government facilities, and provide law enforcement services for special events sponsored by the Tribal Government and/or the Casino when required. Rangers are assigned to dignitary protection when tribal officials attend off site functions requiring this level of protection. The Ranger Department has an intensive training program for departmental staff that is continuous in order to provide professional quality service for our community, government officials and property interests.
Training Bureau
The Ranger Department established a "Training Bureau" in 2009, to provide a comprehensive training program designed to coordinate training of departmental staff with current law enforcement sponsored training at credentialed facilities and to adhere to all state of California Department of Justice (DOJ) requirements and the state of California Bureau of Security and Investigative Services (BSIS) requirements. Since September 24, 2009, The Tribal Ranger Department has been designated as a certified "Training Facility" by BSIS. Currently the Training Bureau staff has trained all Ranger patrol staff and members of the Pechanga Casino Department of Public Safety Officers in Baton, Chemical Agents, and Firearms. Recently the Training Bureau received certification by California DOJ to conduct Handgun Safety training. In addition the Riverside County Sheriff has authorized the Ranger Department to be a certified CCW requalification provider. These certifications by the various state and county entities were based on the training and certifications the Ranger Department's Training Bureau staff has; staff instructors have received certifications through POST, BSIS, DOJ (both state and federal), and are certified firearms instructors and Range Masters. The Training Bureau is responsible for maintaining records of all training, retraining, proficiency testing, and certifications that have been issued.
Specialized and Advanced Training
All department staff members have attended several intermediate to advanced schools and/or academies to receive training in various areas specific to their job assignments, duties and responsibilities. Various training institutions, both POST, Federal and other certified training facilities are utilized. Over eighty (80) different courses of study have been attended by departmental staff over the last seven years. Examples of specialized training attended by staff members: Dispatch Public Safety Advanced, Crisis Negotiations, Internal Investigations, High Impact Police Leadership, Defensive Tactics training, Traffic Collision Investigation, Domestic Violence, Interview Techniques Advanced, Patrol Response to Active Shooters, Responding to School Violence, Dispatch Advanced, Dispatch Active Shooter, Dispatchers role in Critical Incidents. This list of training is not inclusive, provides an example of the specialized training that staff members have and continue to receive.
Logistics
The Logistics Specialist provides critical services that enables the Ranger Department to successfully carry out the various duties and responsibilities the department has been tasked with. Along with the aid of the department's CSO, the Logistics Specialist maintains the department's patrol vehicles and other essential equipment. The Logistics Specialist researches and arranges for maintenance to be conducted on department vehicles by various outside vendors. The Logistics Specialist is also responsible for quality assurance on any and all maintenance that has been done to departmental equipment prior to that equipment being put back into service.
Community Policing
The Ranger Department has an established "Community Policing" program. The program is designed to establish positive relationships with our tribal community. To focus on tribal concerns of general issues important to the community and a forum for tribal members who have concerns or issues regarding the Ranger Department, its staff and to present their personal and/or private issues. All contacts are considered sensitive and highly confidential. Community Policing creates relationships with the residents of the community, strengthens feelings of safety and elicits cooperation between the residents/membership and the Tribal Rangers.
Community Service Officer (CSO)
The Ranger Department has one Community Service Officer whose duties and responsibilities are to provide support to Patrol, Dispatch and Ranger Administration. The CSO is frequently called upon to assist with non-enforcement functions. Examples of duties performed is to assist the Logistic Specialist in transporting departmental vehicles to off-site locations for maintenance needs, stock, order and organize supplies delivered to the station, pick up high priority documents/letters from various tribal government and Casino departments and transport those items to a designated destination, inspect equipment to ensure those items are in operational order and to monitor supplies on hand, rotate supplies for use and maintain supply inventory so no shortages occur. The CSO has numerous duties and responsibilities that impact operational capabilities and elevates the necessity to utilize a patrol Ranger to accomplish duties unrelated to patrol functions, freeing up patrol to remain in the field.
Animal Control Program
The Ranger Department provides Animal Control services on the reservation. Due to the scope and extent of the program the department has sent several staff members to a certified "Animal Control Academy". After successful completion of the academy attending staff members are "certified" as Animal Control Officers. The department has a holding facility (kennels) adhering to accepted standards as set forth by the Animal Friends of the Valley organization. In addition the department has an ongoing contract for services with "Animal Friends of the Valley".
Court Services
The Ranger Department provides Patrol Rangers for "Court Services" staffing. When the Court Peace Keepers conduct hearings Rangers are assigned as Bailiffs to keep the peace during these processions.
National Prescription Drug Take-Back Program
The Ranger Department is a designated disposal site for persons who have accumulated unwanted, unused prescription drugs. This program provides a site for persons to safely dispose of those medications they no longer want in their household by turning them in for disposal. This helps reduce the risk of these medications from harming persons and prevents contaminating our environment. This program is sponsored by the Drug Enforcement Administration (DEA).
TERC/LEPC member
The Ranger Department participates in the Bands, Tribal Emergency Response Commission (TERC) / Local Emergency Planning Committee (LEPC). This commission was sanctioned by the Tribal Council to develop, implement, and facilitate all aspects of hazard and emergency mitigation, preparedness, emergency response, and recovery from natural and technological emergencies and disasters in order to save lives and protect property. The Ranger Department representative is one of the designated Board Commissioners of the committee/commission.
School Resource Officer (SRO)
The Ranger Department has a Ranger assigned as a School Resource Officer (SRO) for the Pechanga School. The SRO is responsible for designing and implementing programs for students and staff on topics ranging from personal safety to school operations during emergency situations. Each program is researched to provide the most comprehensive and current information available. When students are off on summer break the SRO continues to work with the students by participating in summer youth activities and programs. The SRO also works closely with Riverside County Sheriff School Resource Officers and the local school districts to assist with truancy prevention, behaviour problems and drug and alcohol related incidents. The SRO schedules and completes documentation for volunteer/court community service requirements.