Prior to beginning training, there is an Orientation to help answer any questions you may have about moving forward. If you decide you would like to be a foster caregiver you will be asked to fingerprint through the Pechanga Tribal Rangers. Training consists of 5 Modules:
Module 1 – Trauma, Post-Traumatic Stress Disorder, & The Road to Healing
Module 2 – Understanding Child Abuse, Neglect, & The Impact of Domestic Violence
Module 3 – Understanding Attachment & Healthy Foundations
Module 4 – Grief, Loss, & Healing: The Road to Raising Healthy, Responsible and Respectful Children
Module 5 – Resource Sharing & Graduation Celebration
Each module will be provided once a week on Thursdays from 9am – 12pm with the goal of completion in one month. Once the training is completed the home assessment process begins.
The home assessment includes a walk-through of the home to ensure all safety needs are met. The home assessment includes 3 face to face interviews. The next step is a written report. The written report includes a family social study. Once completed you will be a trained and approved placement for native children in the community.
Please email or contact This email address is being protected from spambots. You need JavaScript enabled to view it. if you are interested in participating This email address is being protected from spambots. You need JavaScript enabled to view it.or 951-770-6106
---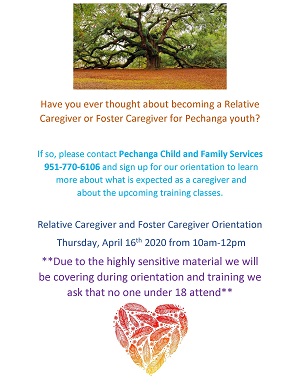 Relative Caregiver and Foster Caregiver Orientation
Thursday, April 16th 2020 from 10am-12pm
Have you ever thought about becoming a Relative Caregiver or Foster Caregiver for Pechanga youth?
If so, please contact Pechanga Child and Family Services 951-770-6106 and sign up for our orientation to learn more about what is expected as a caregiver andabout the upcoming training classes.
**Due to the highly sensitive material we will be covering during orientation and training we ask that no one under 18 attend**