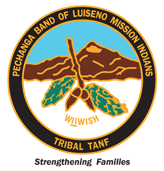 The Pechanga Band of Luiseño Indians provides TANF services to Native American families living on the Pechanga Indian Reservation.
The Pechanga TANF Program assists low income families moving toward self-sufficiency by providing cash aid and other assistance designed to increase job preparation, employment, and allow children to be cared for in their own homes. Additionally, other at risk families and youth are eligible to participate in pro-family activities and prevention based programs aimed at reducing out-of-wedlock pregnancies and promoting two parent families.
Eligibility for Cash Aid and Assistance:
Parent or relative caretaker residing within the Pechanga Indian Reservation.
Have minor child(ren) in the home.
At least one of the children in the home must be an enrolled member of a federally recognized Indian tribe.
Meet financial eligibility guidelines.
Specific services and referrals provided will be determined on an individual case basis based upon the specific and unique needs of each family. They may include; participation in work activities, education or training, job search assistance, child care, transportation, parenting skills classes and activities, Youth prevention services and education activities, and domestic violence services.
PECHANGA TRIBAL TANF
12705 Pechanga Road
P.O. Box 1477
Temecula, CA 92593
(951) 770-6177